Mobile proxies are becoming increasingly popular when working in multiple accounts for affiliate marketing, SEO, and scraping websites. However, there is a more cost-effective way to create private mobile proxies using an Android device and the mobile app for Android iProxy.online without the need for any programming skills. The cost of a mobile proxy will be $6-10 monthly per iProxy plan, plus the tariff of your SIM card.
Tools like this can help affiliate managers find new partners in other regions, or simply check on content that their partners are delivering cross boarders, especially when working in industries that are heavily compliant.
iProxy.online is an Android mobile application that allows the user to set up mobile proxies using their phone. The proxy will use the mobile internet from the phone. That's why the IP address and location of the proxy will match the IP address of the SIM card and the location of the phone.
In simple terms, it's possible to make a phone a hotspot and to connect a PC to it using Wi-Fi, or use iProxy to distribute that same traffic.
The benefits of using iProxy compared to distributing a hotspot:
More convenient than a Wi-Fi hotspot: it's possible to set up the proxy access points once and change IP address from the dashboard, set up rotation, and use API or telegram-bot to change the IP address.
Some software works only through proxies, for example, scrapers, automatization tools, bots, etc. You can't use Wi-Fi hotspots with automation programs.
Proxy allows users to work remotely from anywhere in the world. Wi-Fi hotspots will work within 10 meters only.
iProxy has extra features to manage the proxy: history of IP addresses, change DNS, a unique IP address feature, duplicate SMS from a phone to a telegram bot, count traffic, logs, IP rotation, etc.
Technical features of the iProxy.online
HTTP, SOCKS5 support
UDP, HTTP/3 support in .OVPN config
High speed
IP-address change and rotation
API
A Telegram-bot for notifications and IP address changes
Traffic calculations
Authorisation by login/password or by IP-address
DNS spoofing
Uptime notifications, Uptime history
Instruction for setting up the mobile proxy
Sign up on the site iProxy.online
Follow the instructions on the dashboard, install the app on Android, and log in.
Use proxy credentials from the dashboard on the software and enjoy the work.
You can find out how by watching this video:
How does iProxy help to save money on mobile proxies?
Mobile proxy providers put their profit and cost into the proxy price. The costs may include rent payment, electricity, downtime to find clients, administrators' salaries, etc.
Using iProxy you pay only the tariff on the SIM card and a small fee of $6-10 per month for the iProxy tariff.
For example, ready-made USA mobile proxies cost $100 or more. But you can make it by yourself and pay around $40 monthly for the tariff with unlimited mobile internet of AT&T or any other mobile operator, and with BigDaddy Pro iProxy tariff you will get the prime cost of USA proxy for $50 per month.
Thus, creating mobile proxies using an Android device is much cheaper and easier than a purchase of ready-made proxies.
Clean private proxies by iProxy.online
The guarantee for the ready-made proxies is on the proxy provider, who is able to sell the proxy as private for several customers. Using iProxy.online the traffic of the proxy will go through your phone which means you will get private clean IP-addresses
How to get a proxy from a country where you are not located
If you need proxies from a country or city you aren't currently in, there are two options available:
1) Choose a verified mobile proxy provider from the catalog
2) Ask a friend who is currently in the target country to install our app and launch a proxy for you.
Practice shows that if you use a SIM card from one European country in another European country, you will get the IP address of the country in which it was purchased. It will allow you to make mobile proxies of Spain while you are in Germany with a Spanish SIM card.
 iProxy.online bulk customers: Real examples
 iProxy.online is not just a mobile application for local purposes. It is a business tool that is used all around the world. Some clients use it for personal work, and some make proxy farms and sell proxies.
Since the location of the proxy is the same as the location of the phone, and webmasters need proxies from several countries, the demand of selling mobile proxies is very high.
You can get acquainted with the trusted providers of mobile proxies worldwide on this page.
Mobile proxies for Facebook, Google, Amazon, Instagram
iProxy.online, like other mobile proxies, is ideal for social network use. With limited mobile IP addresses compared to the number of internet users, multiple individuals share the same IP address when accessing websites. When a webmaster utilizes mobile internet, they seamlessly merge with the "crowd." Even if they engage in potentially suspicious activities, websites refrain from banning users solely based on their IP address, as that would also affect innocent users sharing the same IP. Due to the ease of blending in with regular users, mobile proxies have gained significant popularity among webmasters.
How to use UDP connection
Since all the major browsers and players support UDP and HTTP/3 now (Google, Facebook, etc), iProxy.online has added these features built in a .OVPN config.
.OVPN config is a file with type .ovpn to run through the programs that support this file type.
UDP is another type of connection, newer than TCP connection.
Once iProxy.online app is installed on Android, it's possible to download .OVPN config from the dashboard on the site iProxy.online and open it using the program (OpenVpn for Windows, Tunnelblick for MacOS etc).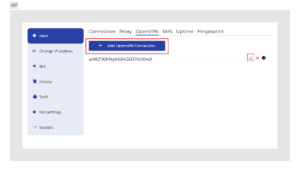 The default DNS of the .OVPN connection is Cloudflare. There is an opportunity to set DNS of the mobile operator in the .OVPN config section on the dashboard.
The traffic of the computer will go through the traffic of the phone.
Features of the work with .OVPN configs
Working through .OVPN configs is suitable to work on remote virtual machines or physical computers without using anti-detection browsers.
All the traffic of the computer goes through the mobile internet of the phone.
It's possible to use .OVPN configs in anti detection browsers.
HTTP/3 (QUIC) protocol is mainly used to work with video/audio broadcasts
Working through UDP for websites looks as natural as for ordinary internet users, which ensures maximum trust from the sites.
Use promocode AFFIVERSE to get 15% discount on BigDaddy and BigDaddy Pro plans on your next purchase.
_____________________________________________________________________________
This promoted content is produced by an advertiser of Affiverse. This is a paid-for advertorial content supplied by i.proxy. Affiverse allows affiliates, operators, agencies and SaaS providers to share their news, opinion and insights and promotions with Affiverse's audience both online and via our newsletters.
To advertise your business with us – contact: sales@affiverse.com