The average casino, sportsbook or bingo punter tends to get a lot of emails into their in box on a daily basis due to the aggressive retention programmes run by operators who actively retain their database.
Among the exclusive offers, free bets and spins, how can your affiliate newsletter or promotion hope to stand out? One answer to this dilemma could be to use kinetic email, which is proving to help convert customers and improve email engagement.
What is kinetic email?
We'll start, with the basics before we build up to the big ideas being used around kinetic email campaigns. The mailers that you're using right now are most likely HTML, which has been the standard for quite a while now. They have images and text, and they typically do the job right.
In terms of communications, these don't really look the best, especially when you take a look at all of the other technology that's available for marketers to use. That's where kinetic emails come in, as they use both HTML and CSS to create a much more engaging mailer. If you want your recipient to be able to use this email as a gateway to your site offering, then this is a great way to make a start.
The first company to use this format in earnest was B&Q, who rolled out a big campaign in 2014 using these mailer types. This was quickly picked up by advertising buffs and suddenly the retail world was jumping on this bandwagon.These mailers aren't just interactive, they create an immersive environment in the space of just an email. They incorporate sliding carousels, animations and more to stand out from the rest. They tend to also have a backup mailer design, which will come into play with email clients that don't support CSS. In this visual age – where our audience attention span is literally 3 seconds you definitely want to have an impact to stand out.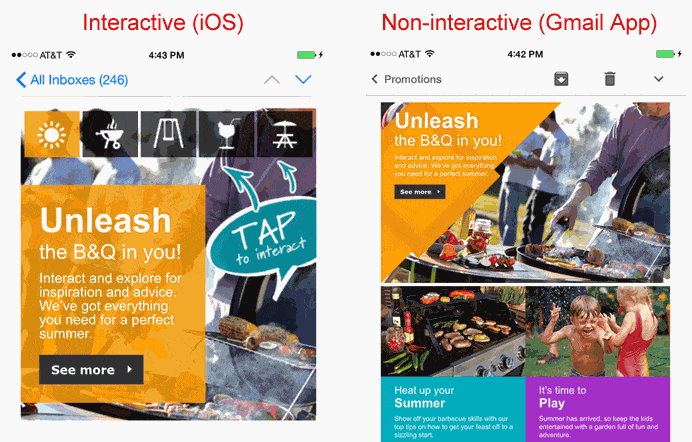 How can you use this tech to your advantage? 
Emails with a well-crafted subject line will be much more likely to be opened and after that, kinetic tech will be there to help. These are your ticket to standing out and leading your recipient to the next affiliate deal. These build trust, as you look like you know what you're doing and you're presenting your deals in an impressive way.
You can use this to show off a lot of offers, without a lot of text too. If you've got a lot of exclusive deals that you want to shout about then this kind of tech can come in very handy. The retail sector is using this tech heavily, but the iGaming industry seems to be lagging behind when it comes to using it. Chances are your affiliate peers most likely aren't using this tech either, so if you do you can drastically improve your stats.
Affiliates don't want to get bogged down by creating new mailers all the time, but these are actually quite simple to get to grips with. The main thing to remember is to have a backup static email in place, which will step in if the kinetic email coding isn't recognised.
The facts and figures
As these emails have been in use for a while now, there's a lot of good data out there on what they can do for your open and conversion rates. Up to 18% more clicks have been reported using this email method, for an affiliate that can be a massive uptick in traffic.
Experts in this marketing format suggest that you implement this tech in stages, taking the time to understand what your users respond to. Starting with the simple designs will also give your reader the chance to get accustomed to the tech too, as they may never have experienced it.
There's a real opportunity for affiliates to use this tech to their advantage, especially now that the emphasis is on building customers that you can re-market your offers to. If you want to increase your conversion rate while trying out new tech, then register for the upcoming Affiverse Bootcamp or AffiliateFEST events. We'll be disrupting the industry with some of the latest digital tech trends and teaching you exactly how to bootstrap your affiliate marketing.