Seven top performers were awarded high-end tech prizes for excellence in the Exness Affiliates Summer Challenge as the company gears up for the launch of a significant brand campaign.
The Exness Affiliates Summer Challenge
Exness Affiliates, a leading fintech CPA affiliate program, recently unveiled the winners of its two-month-long Summer Challenge, showcasing seven exceptional affiliates from a pool of numerous participants. Competitors were challenged to secure at least 50 first-time deposits (FTDs) from traders in one of the program's emerging tier-3 countries. The affiliate with the highest total of FTDs by 31 August 2023 was declared the winner.
The best-performing affiliates showed top-notch skills and some really innovative marketing strategies to shine brightest among the contestants. And the top seven performers were rewarded with high-tech prizes. In fact, what was supposed to be a winners' circle of five, was quickly expanded to seven contestants, to celebrate the talent of Exness affiliate marketers on display. That extra recognition signifies Exness' commitment to honoring its partners beyond mere obligation.
The winners
The overall winner, Ariful Islam, won a 512GB MacBook Pro. A secret affiliate received a 1TB iPad Pro Wi-Fi + Cellular, Harsh Japra was gifted an iPhone 15 Pro Max, Mark Nedzelskii won an Apple Watch Ultra, and Uria Kopelman took home a pair of AirPods Max. Additional winners, Frank Huang and Medha Jain received a pair of AirPods Pro.
"Our affiliates continually pursue new challenges and aim to exceed expectations. This mindset fosters our successful partnerships," said Jana Ivanov, Affiliate Marketing Manager at Exness Affiliates. "This competition was designed to stimulate marketers to overcome obstacles and earn deserved rewards for their extraordinary efforts. In the end, their impressive results made us broaden our winners' list."
Exness Affiliates launches a large-scale brand campaign
This recognition of talent among Exness Affiliates comes as the company marks a significant milestone – its 15th year in the market. To celebrate the joint accomplishments and success achieved with its partners over the period, Exness has launched a large-scale brand campaign.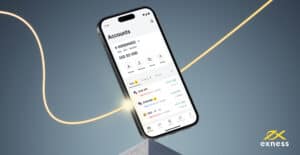 Tagged "That moment", the campaign draws on the real experiences of Exness traders, picking out poignant points in time from their buying and selling journeys and sharing them with novices and veterans alike. "That moment" will capture the exhilaration of the trader after a successful trade, the sheer joy when their chosen stock rises above their wildest expectations, the tunnel vision they experience just before the markets open, off the back of a major currency move.
The accompanying slogan, "Trade with an edge in every moment," encapsulates the essence of Exness — a platform built by traders, for traders — and how the broker understands the intricate details of their journey, and is on hand with the support they need in order to thrive in the markets.
This project inspires traders to be introspective about their experiences and strategies, while drawing attention to the advantages of predictability, protection, and seamless withdrawals, that Exness provides to every one of them, as part of its platform's core features.
Exness Affiliate partners in particular are being encouraged to deploy the fresh resources available during the campaign — including banners, videos, and landing pages — to help their own promotional work. The resources are available in the Promo section of the Exness Partner Personal Area, designed to enhance trader conversions.
This monumental celebration is not just about Exness' 15-year journey. It's about honoring the partners and ushering in a vibrant new chapter for the brand, as it continues to support traders every step of the way.
Learn more about the Exness Affiliates CPA program here.