Affiverse caught up with David da Silva, CEO of EasyOdds, who shared some wisdom and insight from his twenty years in the affiliate space.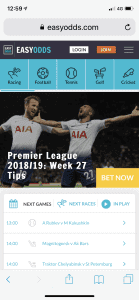 Affiverse: EasyOdds was one of the earliest online affiliates, dating back to 1999. What has it achieved in that time?
David da Silva: EasyOdds has a 20 year reputation as the punters' champion. Having been around since the start of the online gaming industry means that EasyOdds has built up a great deal of trust and authenticity with the sports betting community in the UK and the affiliate gambling sector. We serve a very loyal user base of punters who rely on our original promise to them – to be on their side and help them get the best deals available from bookmakers.
AI: Compliance and social responsibility are essential aspects of the affiliate model. What kind of strategy have you adapted to deal with this?
DDS: To fulfil our promise as the punters' champion we also need to offer the tools for their own protection. We're currently building player protection into the EasyOdds user experience to make sure we help our users find the right information or resources – not just the best betting odds. We believe EasyOdds has a natural role to fulfil as an independent body sitting between consumers, operators and the UK Gambling Commission. As such, we're actively engaging with all of these stakeholders to identify the biggest impact we can bring to the industry as a whole.​
AI: EasyOdds has recently installed a new management team. Is it business as usual or is there a bigger plan?
DDS: The new management team is absolutely focused on building on our heritage, brand and success. We have a great team in Leeds which is working hard to bring a number of player enhancements to the EasyOdds site which will benefit users and improve their experience with us.
AI: What is EasyOdds doing to ensure its involvement in each part of the punter cycle? How are you enriching your relationship with your end users?
DDS: EasyOdds is well established in the hearts and minds of the experienced punter. We now want to expand our service to consumers who are less sophisticated and may need more guidance and support when placing bets online. Not all sports are the same, so betting styles, terminology and risks will vary. There are also more operator-specific factors to consider other than specific odds on a particular bet. At EasyOdds, our mission is to help punters at varying stages of their online betting journey.
AI: And what methods are you implementing to ensure that players being directed to the site are sticking around?
DDS: Our plan for the EasyOdds site is very much rooted in creating a richer and deeper site experience. We're playing our cards close to our chest for the time being, but the themes mentioned already should signal the direction we're taking.
AI: Looking ahead to the remainder of 2019, what's in store for EasyOdds?
DDS: EasyOdds is an established UK online betting institution. It makes sense to build on this by taking our proposition and experience into new markets.​ In fact, you will be hearing a lot of exciting news from EasyOdds over the coming 12 months from both a commercial and punter's perspective.
da Silva will talk on the Affiliate CEO panel, moderated by Affiverse CEO Lee-Ann Johnstone, at next month's SBC Betting on Football conference. Find out more here.