ThePOGG.com have officially announced that their complaints services has reached another milestone, with the service returning over $2,500,000 to players.
Almost exactly two years ago to the day, after over four years of operation, ThePOGG.com reported that they had recovered  $1,000,000 of player funds. 
With a huge increase in the number of people who are using the service, the total amount in funds which has been returned to players has increased over 150 per cent in the last two years. On average, $62,500 has been returned per month.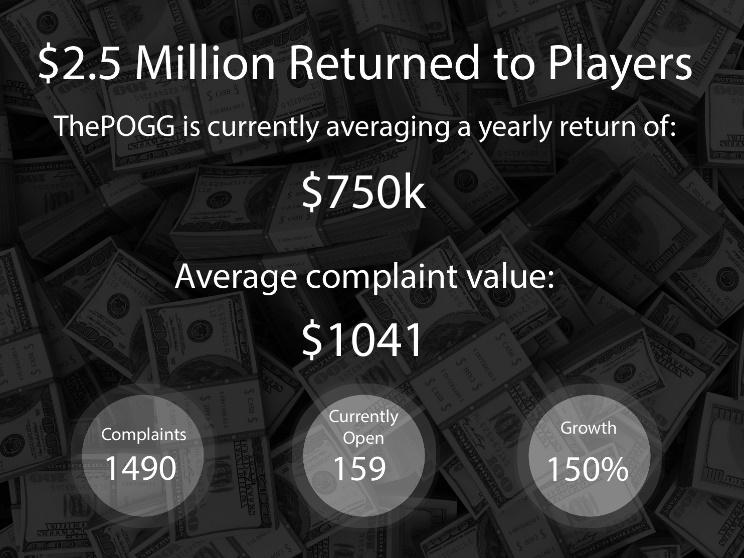 Similarly, in September 2017 the company had logged 1033 closed complaints and 58 open complaints; in Sept 2019, and they are now logging almost 2500 closed complaints and 159 open complaints.
Beyond the simply cumulative amount which is returned to players, ThePOGG.com have iterated that over the last two years, they have returned an average total of $2054 per day back to the playing community (more than double the per day value at the $1,000,000 mark).
For the duration of the lifetime of the service, it means that on average, by taking the time to submit a complaint to ThePOGG.com, the average player finds themselves $1041 better off as a result of doing so.
A spokesperson for ThePOGG.com said: "It has been a privilege to assist so many players recovering funds to date and we sincerely hope that the money returned has made a significant difference to the lives of the player's and their families.
"We take great pride in having helped so many people and look forward to helping many more in the years to come."

With the weather of experience that is boasted by the complaints manager in this field at ThePOGG.com, the quality of the service has been recognised by the Malta Gaming Authority, who currently approve ThePOGG.com as an Alternative Dispute Resolution (ADR) provider.
Under this remit ThePOGG.com currently provides ADR provision to close to a hundred MGA licensed operators.

The complaint service's regulatory based remit makes it a unique platform within the affiliate sector complaint management outlets.
ThePOGG.com also boasts a free Responsible Gambling app, BetBlocker. This is for players who are struggling to control gambling, or for people who may feel that it could be time to take a break, BetBlocker gives control back to player through allowing users to restrict devices from over 6.5 thousand gambling websites.
If you are looking to submit a complaint against a gambling operator you can do so here – https://thepogg.com/submit-complaint/