When a brand is hoping to dive headfirst into affiliate marketing, they often ask – should I hire an internal team or outsource this? Lee-Ann gets asked this question quite often and as someone who leads a team of affiliate marketing experts, she always recommends outsourcing to the right agency.
In this week's episode of Affiliate Drive Time, Lee-Ann discusses some of the benefits of outsourcing your affiliate marketing to an agency. She also highlights the two main benefits of doing this and offers advice on where to begin. Check out the video and read the blog below to find out more.
There are tons of benefits to using an affiliate marketing agency including the experience that an agency can bring to the table and the fact that they can focus solely on this aspect of your business. Lee-Ann has created a table that compares the differences between hiring an in-house affiliate marketing team and using an agency like Affiverse.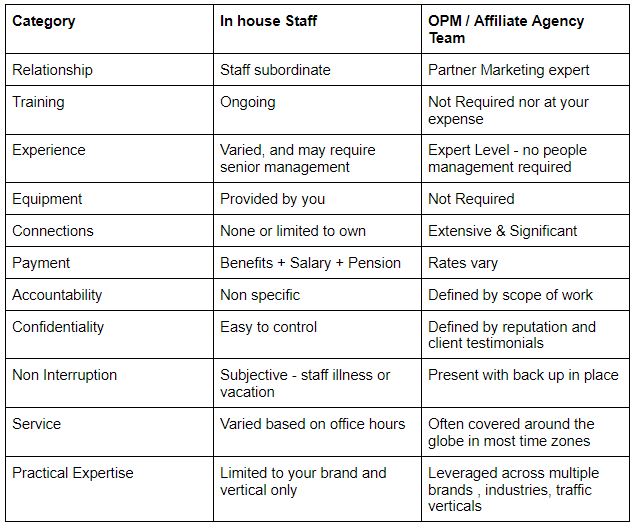 The truth is that while you may want to keep your projects in-house, the benefits of hiring an experienced agency with decades of experience are too good to miss out on. Where else can you get those connections and 24/7 service without having to undergo a serious amount of training?
While tons of these benefits are worth considering, Lee-Ann believes that there are two main benefits of using an affiliate marketing agency.
Cost of resources
Managing an affiliate marketing program can start to get expensive when you are hiring in-house. You'll not only need all of the right equipment and resources so your team are comfortable but you'll also need to spend on keeping your staff skilled. The affiliate marketing industry is constantly changing and while there are great training opportunities such as our AMPP course, it costs to train your staff.
When you use an affiliate marketing agency, you'll only be paying for the service they provide. There are no training costs and you won't need to pay for any additional resources – win, win!
Growing your business
If your aim is to grow your business and scale it up over the next year, you might find it difficult to find the right team members to help you achieve this goal. Yes, affiliate marketers can be highly skilled and experienced but how many of these incredible individuals are you going to be able to secure – and afford?
When you partner with an affiliate marketing agency, you are tapping into a breadth of expertise. You'll get the development and execution that you need to scale your program and get the results that you had initially hoped for. As long as you partner with the right affiliate marketing agency, the sky is the limit.
Here's the bottom line…
Agencies or Outsourced Program Management companies can provide a breadth and depth of expertise that you can leverage into your program marketing strategy and partner recruitment and active management. This leveraged expertise is often offered at a fraction of the cost of hiring people internally to manage your affiliate program in house. If you are looking for an agency with decades of experience, get in touch with our team today.
Don't forget to subscribe to our YouTube channel so you never miss another episode of Affiliate Drive Time. Lee-Ann will be back next week with more advice on the industry.